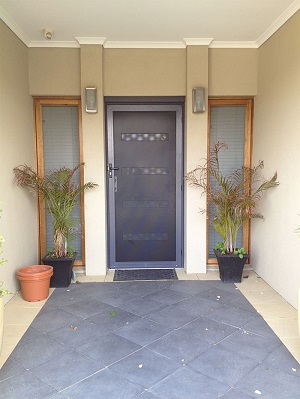 SECURITY DOORS BLACKBURN
Just Doors & Screens have become well-known for providing quality security doors to Blackburn locals looking to secure their homes. Our expertly crafted and fully customisable security doors are sure to assuage your every safety concern, being constructed from the most durable materials.
Sliding or Hinged Screen Doors for Blackburn
If you have been unsure about purchasing security doors because of their oftentimes bulky appearance, Just Doors & Screens will have a solution that is sure to please. We know that bars and grilles can make your home look uninviting, which is why we offer stylish and well-designed security screen doors for our Blackburn customers with refined tastes.
Decorative Security Screen Doors for Blackburn
Ensure your home is completely secured from the windows to the front door with Just Doors & Screens' security solutions. We offer a number of additions which will further bolster your home security including:
Hinged door closers
Sliding door closers
Steel security bars
Hinged door locks (3-point lock)
Single hinged door locks
Sliding door locks
Maximum Strength Steel Security Doors for Blackburn
In addition to security doors, Blackburn locals can also turn to Just Doors & Screens for roller shutters, sliding security doors, stainless steel doors, stacker doors, clear view doors, pet doors, security screen doors, window grilles, fly screens, and more. Just give us a call today on 0439 316 641 for more information!
Fixed or Retractable Fly Screens for Blackburn
In addition to our standard framed fly screens, Blackburn locals will also find retractable fly screens available amongst the Just Doors & Screens range. This innovative style allows for ease of access to doorways, or to casement and double-hung windows.